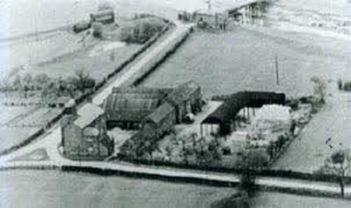 OUR HISTORY
Loftsome and Wressle
At the time of writing the Domesday Book, the parishes of Loftsome and Wressle were part of the grand estates of Ralph de Mortimer; Gilbert de Tison. They were known as Loftsome and Weresa.
Wressle (Weresa)
The castle of Wressle was built in Manor style about 1380 and was known as Percy Castle- the Percy family being the Earls of Northumberland.
The Domesday book lists William de Percy II as having grand estates in Huntingdonshire, Lincolnshire, Nottinghamshire and Yorkshire.
The Yorkshire estate was known as the Leconfield Estate - the family name being Wyndham.The Wyndams were descendants of the Percys' though the female line. The existing Lord is Baron Leconfield, often known as Baron Egremont.


Loftsome (Loftsom)
LOFTSOME, (and Loftsome Bridge), on the banks of the River Derwent, in the parish of Wressle and its Castle, situate 3 miles N.W. of the Minster Town of Howden. Loftsome, a hamlet consisted of two farms and a cottage, was formerly reputed to be a separate manor. A wooden bridge was first constructed over the Derwent by Bishop de Pickavia, circa 1230 AD. This bridge fell into disrepair and was washed away in a violent storm.
From early maps it can be seen that the Loftsome premises and ferry existed in the 1500's. The ferry however, fell into disuse after the building of the second Loftsome toll bridge, by a consortium of locals headed by the Earl of Egremont. The charter being granted by King George III. 1803 AD at a cost of £4000, raised by 24 shareholders.It was the property of the company and tolls were exacted for the passage of man, carriage and beasts.The floor of the toll-house, at the end of the bridge, was only 22 feet above sea level. This swing bridge allowed the passage of vessels. It was repaired in 1888-89 at an outlay of £1500 and stood until the present modern bridge was built in 1932.
1 Wagon or Coach with 6 horse
1 Wagon & 2 horses Each foot-passenger
2 shillings
1 shilling & threepence
1 halfpenny
The toll bridge existed until the building of the second Loftsome Bridge in the 1930's.
These premises have endured a number of changes over the years. What is clear from the 1797 and 1811 surveys (P.H.A 3075, 1472) is that in 1797 it was known as the Wheatsheaf Anchor and in 1811 as the Loftsome Bridge Inn. However, in 1811 the Inn and accompanying buildings were described as "on the whole in very moderate repair". It was then restored and continued as an Inn until the turn of the century, when it lapsed from an Inn to a Farmhouse.
In 1969 it was changed from a Farmhouse to a Farmhouse/Bed & Breakfast. This being a success it was painstakingly renovated to it's present state.